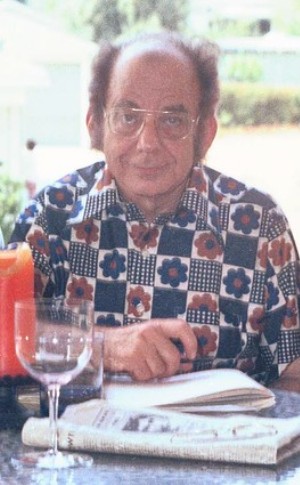 Albert L. Gordon dies at 94; attorney fought for gay rights
A heterosexual whose twin sons were gay, he battled bigotry in law enforcement and successfully argued for the revocation of laws against consensual homosexual acts.
By Elaine Woo
September 6, 2009

Albert L. Gordon, an attorney who helped advance gay rights in the 1970s and '80s by challenging discriminatory practices and laws, including a successful effort to decriminalize consensual homosexual acts, died Aug. 10 in Los Angeles. He was 94.

He died of natural causes, his son Harold said.

Gordon, a heterosexual whose twin sons were gay, became a lawyer in his late 40s and devoted most of his practice to defending the rights of homosexuals and battling the bigotry of law enforcement. Often working for free, he became known as "the leading pro bono lawyer to L.A.'s gay community," historians Lillian Faderman and Stuart Timmons wrote in their 2006 book "Gay L.A."

"Before there was a straight-gay alliance in America, there was Al Gordon," the Rev. Troy Perry, a longtime activist and founder of the gay-friendly Metropolitan Community Churches, said in an interview last week. "When other people wouldn't touch us, he did. He was a hero."

One of Gordon's most memorable cases stemmed from a notorious raid on a gay bathhouse on Melrose Avenue in 1975, when scores of Los Angeles police officers broke up a mock slave auction staged as part of the entertainment for a gay community fundraiser. Apparently not amused by the gimmick, the police treated the event as actual human slave trafficking, a felony, and arrested 40 participants. Gordon helped win their release.

He supported a second mock auction, organized by Perry to raise defense funds, by going on the auction block himself. He went for $369 to his wife, Lorraine.

He also represented gay activists in another cause celebre: a 10-year battle to force Barney's Beanery, a popular West Hollywood restaurant, to remove an offensive sign. The misspelled sign, "Fagots Stay Out," was taken down in 1984.

Born in Pittsburgh on May 29, 1915, Gordon moved to California with his parents when he was an infant. He attended Los Angeles City College, where he met Lorraine. They were married in 1937 and their twin boys, Harold and Gerald, were born later that year.

Lorraine died in 1987 and Gerald died in 1996. In addition to Harold, Gordon is survived by his second wife, Pearl.

During World War II, Gordon worked as an efficiency engineer at Lockheed but was fired because of his pro-union activities, Harold Gordon said. He subsequently started a janitorial service, which he ran with his first wife for about 15 years.

At the urging of a friend, he enrolled at the San Fernando Valley College of Law. He passed the bar in 1962 when he was 47.

While Gordon was in law school, Gerald was arrested for soliciting a vice officer. "My whole world just fell apart," Gordon told The Times in 1974. "I'd always had the normal stereotype of a homosexual as a child molester or somebody effeminate. When my own son was arrested, I just couldn't believe it was true because he was neither of those things."

Gordon and his wife separated under the strain caused by the arrest, and he was on shaky terms with his son for several years."He was homophobic," Harold, who later came out as gay, said of his father in an interview last week.

What softened Gordon's attitudes toward homosexuals was getting to know several of Gerald's gay friends when they came to him for legal advice. One night he summoned the courage to ask his son if he was gay. When Gerald answered yes, Gordon broke down and asked his outcast son to forgive him.

"I was the one who changed," Gordon recalled in the 1974 interview.

That year he joined with gay liberation leader Morris Kight to devise a challenge to the 1915 California law that made oral sex a felony. They recruited a gay male couple, a lesbian couple and a heterosexual couple to sign affidavits stating that they had broken the statute against oral copulation.

Gordon then informed the LAPD that the "felons" would present themselves for arrest at the Los Angeles Press Club. As he expected, no police showed up but a media circus ensued, guaranteeing coverage of a law he regarded as hypocritical.

"He loved antics. He liked to really stir things up and fight for the little guy," said Los Angeles lawyer Thomas F. Coleman, who was a UCLA law student when he began working on gay rights issues with Gordon in the early 1970s.

Undeterred by the absence of police, Kight made a citizen's arrest and drove the three couples to the Rampart police station, but the station commander refused to bite.

The next stop brought the offenders no closer to jail. At the office of the assistant district attorney, they were told no charges would be pressed because prosecuting private sexual acts between consenting adults was against the district attorney's policy.

Armed with this statement, Gordon and Kight argued that the state penal code was misleading and should be changed. In 1975, the state Legislature agreed by revoking the laws against consensual homosexual acts. The change removed a major tool of police harassment of gays.

"He helped change the legal system in California, particularly in Los Angeles," Coleman said. "The gay and lesbian community really owes him a debt of gratitude."